Do you want to pay off your investment in a Rise Garden in less than 5 months and grow $3,000 worth of fresh produce every year? Read on. 
The sticker shock when we head to the grocery store is jarring. We're seeing $5 tomatoes and heads of lettuce, $8 cartons of eggs, and $4.50 averages for a gallon of conventional milk. According to the most recent Labor Department statistics, the cost of groceries has increased 13% in just the last year including a 10.4% increase in fruit and vegetables. With supply chain issues, droughts and global conflicts, prices could continue to rise. 
Between inflation and economic uncertainty, many of us are looking for ways to reduce our expenses and tighten the belt. One way many Americans (and people around the world) are reducing their grocery bills is to grow their own food. 
Of course, if you live in a place with short winters or don't have any land to grow on, you might find it hard to reduce your grocery bill year-round. That's where indoor hydroponic gardening comes in. The short summer growing seasons in Chicago was one of the reasons our founder, Hank Adams, was determined to find a solution and ultimately built the Family Rise Garden and then added the Personal Rise Garden to give even more people an opportunity to garden all year long.
Growing your own food has so many benefits—better tasting produce, more nutrition, stress reduction, connection and so much more. So, with rising prices at the grocery store, we wanted to turn our attention to how you can maximize your investment in a Rise Garden and grow a substantial amount of food. 
If you are looking to save on your weekly grocery bill, you will need to look at our Triple Family Garden. One of the great features of our Family Garden is that is has one of the largest growing capacities on the market. With the help of our 8 and 12-pod trays, you can max out your growing capacity at 108 plants.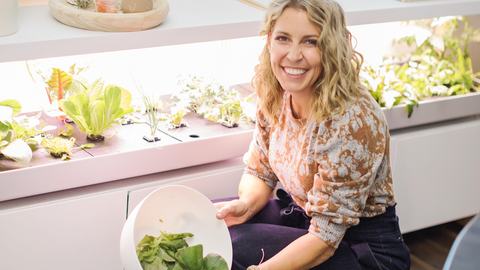 Below, we've outlined how to maximize your Rise Garden to grow the most of amount of vegetables, herbs, and greens.
 We also share the how and why beyond our plan.
We selected these plants based on their high yield and high cost at the grocery store and farmers market. This layout is built for a Triple Family Garden and laid out to maximize growth, and return on investment. This Garden is designed to be one-in-one out, so to best use this layout, you should plan to pre-germinate your plants in a nursery and replace them with the same pod variety. The bottom row contains greens and peas that are harvested and then only replaced at the very end of the grow cycle.
Let's get started.
Garden Layout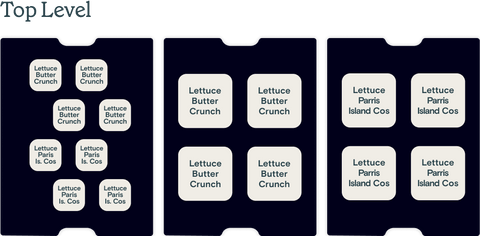 This top level of the Garden is your salad machine. The most expensive lettuce on the market today is Romaine and Butterhead lettuce, so we have provided you with a constant flow of fresh lettuce for your salads. We've maximized growth by using our 8-Pod Tray Lid to allow for a head of lettuce per day. Learn more here!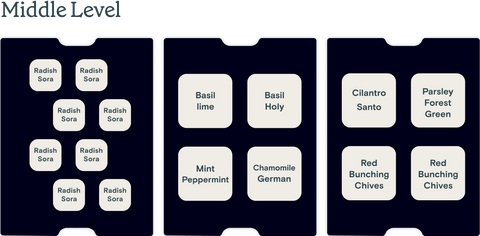 This middle level is focused on radishes for your salads, herbs for dressings, and herbs for tea. This level helps to keep your garden producing expensive herbs and teas that will help keep the value of your garden high.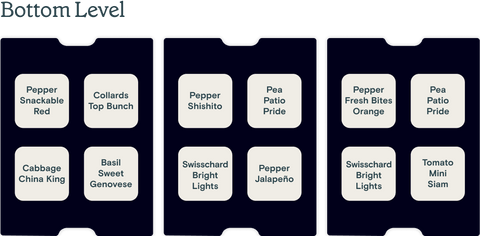 The bottom level is where your fruiting plants are. Fresh peppers are becoming more and more expensive so we selected our most productive pepper plants to allow you to saute your heart out without hurting your wallet. We made sure to include our bountiful tomato plant that will add a pop of color to your salads, as well healthy greens, and vining peas. We planned out the garden so that you can get multiple harvests of your greens and peas, before you remove them to make room for your fruiting plants.
Cost Breakdown
When you take into account the cost of the Garden, the price of similar produce, and the operational costs to run the Garden, for a single cycle of growth**, you would have spent around $1,250 at the grocery store and farmers market, but only spent $241 on seed pods and $128 on running the Garden. This comes to saving $880 per cycle, and around $3,000 per year!
With a Garden cost of $1,079 and an additional $40 for two 8-Pod Tray Lids, this means that you will pay off your Garden in under 5 months, with every month saving you money compared to shopping!
** A single cycle of growth is around 100 days, with a single harvest from your fruiting plants and several harvests from your greens and herbs.
Interested in learning more about how we calculated your savings? Read more below:
Grocery Store Prices
As we mentioned above, most shoppers have experienced their grocery bills getting larger and larger. With this in mind, we wanted to run the numbers and see how our produce compared to the grocery store.
We started by scanning online grocery shopping websites for general produce information, trying to match our varieties as close as possible to what you could buy in the store. For some of our more specialty items, we used Instacart to look at stores like H-mart for competitive prices on Asian greens, and even traveled in person to Chicago farmers markets for other items. 
After we had our grocery store and farmers market data, we compiled all of the yield data we collected from various Rise Labs experiments, as well as user data, and found the average weight of a single pod's harvest for each one of our plants. 
Including the price of our pods, we found the average cost saving for each pod. Using the maximum days to harvest for each plant, we found the total cost of growing each of our plants in a Triple Family Garden. We then selected the highest value crops and assembled a realistic Garden layout based on what our customers grow and harvest.
Example Calculation: 
Gotham Greens Hydroponic Buttercrunch lettuce = $5.19 per clamshell = 4.5oz = $1.15/oz
Rise Buttercrunch = $1.50 per pod = 2.76oz per pod of harvested lettuce = $0.54/oz
So that means you are saving $0.61 per head of lettuce!
Continual Garden Costs
On top of the cost of the seeds and the Garden itself, there are also continual costs of things like Rise Nutrients, water, and electricity to consider. 
Breaking down the nutrient cost, a Triple Family Garden subscription costs $23.98 per month, which comes to roughly $0.79 a day. Looking at the average cost of water utilities in the US, the price of a gallon of water is roughly $0.003, and with a Triple Family Garden using 0.98 gallons a day, that comes to about $0.003 a day. The average cost of a kwh in the US is $0.1375 and with your Garden using 3.12kwh per day, this comes out to $0.43 per day. All of this adds up to an operations cost of $1.22 per day to run your Garden.