Nutritious food,
all year round.
´>
Never run out of harvests when you become a Rise Member. Plus, you'll get...
Seasonal customized box
15% off nutrients, seeds & accessories
Free shipping in contiguos U.S.
Swap or cancel anytime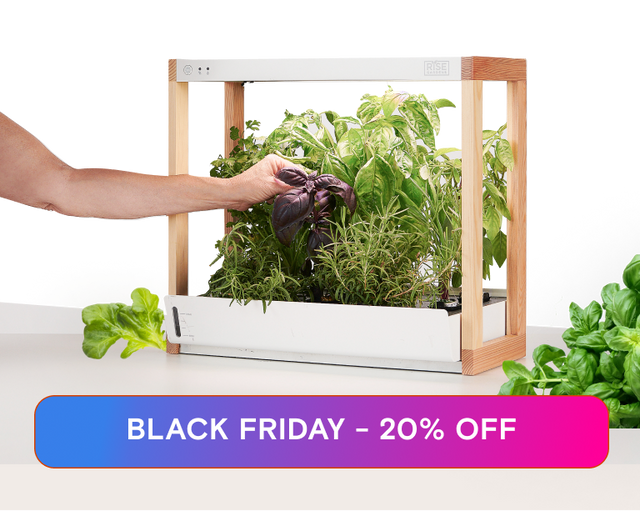 What do you get as a member?
Over $700 value for $360
Up to 96 plants

$250 value

15% off in supplies

$150 value

Nutrients for the whole year

$180 value

Free shipping

$50 value
Exclusive Access

New seeds & new products
You can grow up to...
20 lbs of leafly greens every month

---

80 salads for your family

---

24 radishes every month

50 tomatoes
& peppers every month

---

lots of sauce to enjoy
FAQs
Membership
We've designed our memberships to help you get the most out of your Rise experience. Join our community of growers every season to grow a curated selection of seeds. Rise members receive benefits like a seasonal box of growing supplies that includes a curated assortment of seeds and a nutrient bundle to grow them. Members also get access to free shipping on orders of $30 or more, a 15% discount on seeds, nutrients & accessories, freebies, and exclusive access to new seeds, events, and more!

Your membership starts the day you pick your plan and place an order!

Rise offers memberships for the Personal Rise Garden and the Rise Garden. Both have annual or seasonal membership plans. Don't forget you can grow even more, for less with our annual plans!

Yes, but you'll miss out on over $100 of savings per year on growing supplies and even more savings compared to the grocery store. Our membership is designed to give you a fun way to grow year round with seasonal themes and events, savings on supplies, and loyalty points to help you

A seasonal membership can be canceled after every season. After the first season ships, you are welcome to pause your next season at any time. An annual membership can be canceled after one year.

Yes, one of the biggest perks of becoming a member is free shipping on seasonal boxes and add-ons to the seasonal box. You also get 15% off and free shipping on any order over $30 from our web store!

Memberships can be purchased with a garden on checkout or after the purchase of your garden. Purchasing a membership along with your garden gives you savings on the garden + shipping. The seasonal membership is $60 every 90 days for the Personal Garden or $105 every 90 days for the Rise Garden. The annual membership is $180 for an entire year's worth of growing for the Personal Garden or $360 for the Rise Garden.