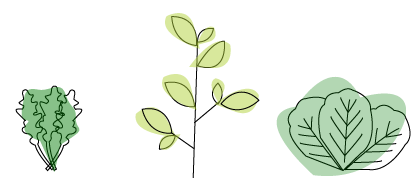 Growing fresh produce is uniquely rewarding. Gardens beautify our landscape, improve our mood, connect us with the natural world, and provide us sustenance. We love our outdoor gardens, but they have their limitations - lack of space, limited growing seasons, critters big and small who also love our veggies. Rise Gardens aims to bring the joys and benefits of gardening to everyone, with simple indoor hydroponic systems that make it easy and affordable for people to grow beautiful and nutritious veggies all year long.
Our mission is to connect people to the food they eat by inspiring them to grow food that they are proud of and can enjoy with family and friends. We value connecting with nature and loved ones, teaching the next generation the value of nutritious food and delighting our customers. We hope you will join us on this journey.
I have always loved growing food. I started as a kid growing strawberries in a small garden in our back yard in Colorado. My family helped me expand that into a rather large, productive garden. We all enjoyed amazingly sweet strawberries and other vegetables — if only for the short season we could grow at high altitude.
I want to share my love and appreciation for gardening by making it more accessible, easier and fun for everyone. In a time when obesity, diabetes and health issues are rampant, we aim to help people connect to their food and establish healthy eating habits. Thanks to a lot of hard work and a passionate team, we have built a system that will allow everyone to experience the joy of growing their own nutritious, flavorful food.
-Hank Adams, CEO & Founder