The future of
gardening is indoors

Features
Garden anything year-round

With indoor gardening, every season is growing season. Rise Garden's gardening system mimics the environment mother nature provides to her plants, with a nutrient rich growing medium and full spectrum LED lighting that has a high PAR (photosynthetic active radiation) to help plants thrive indoors

Use 95% less water

Hydroponics helps the environment by significantly reducing the amount of water usage. Water is recirculated and reused with our patented water flow system, whereas traditional watering methods run off and drain into the environment.

Get 70% more nutrients

Most plants lose 30-50% of their nutritional value within 48 hours of harvest. By the time your produce gets on and off a cargo plane and hits the grocery store shelf, they are severely dehydrated and nutrient deficient. That's why freshly harvested plants not only taste better but are better for you.

Grow 5x faster

With indoor growing, you don't have to worry about critters, storms, droughts, wind or excessive heat. Hydroponics eliminates the variability of nature by providing plants a steady stream of nutrients and the perfect amount of light, heat and humidity allowing plants to access what they need, when they need it. This stable and controlled environment allows plants to grow tall and strong incredibly quickly.
Featured in
Forbes

people

wired

newsweek

hgtv
The Rise Garden Collection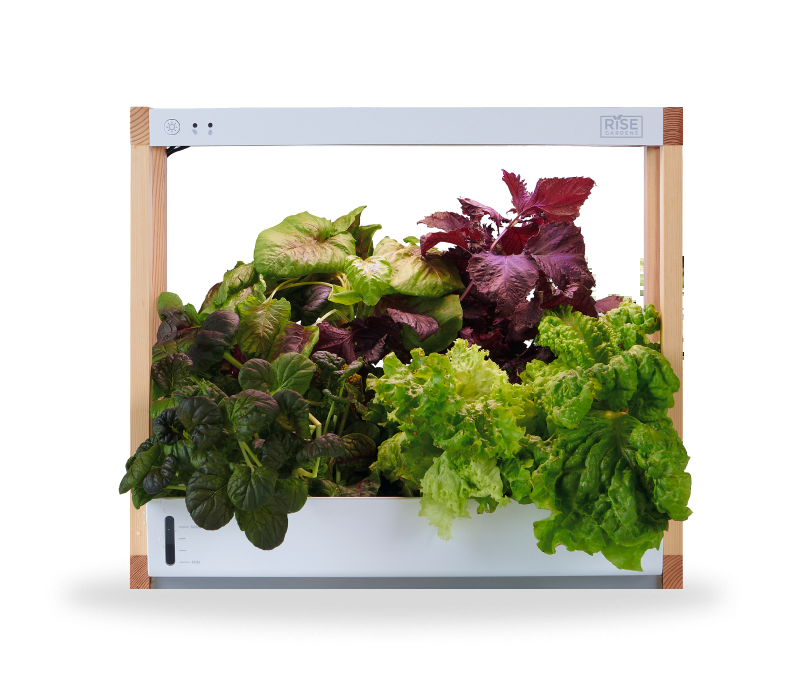 The Personal
Rise Garden
Grow up to 12 plants
right on your countertop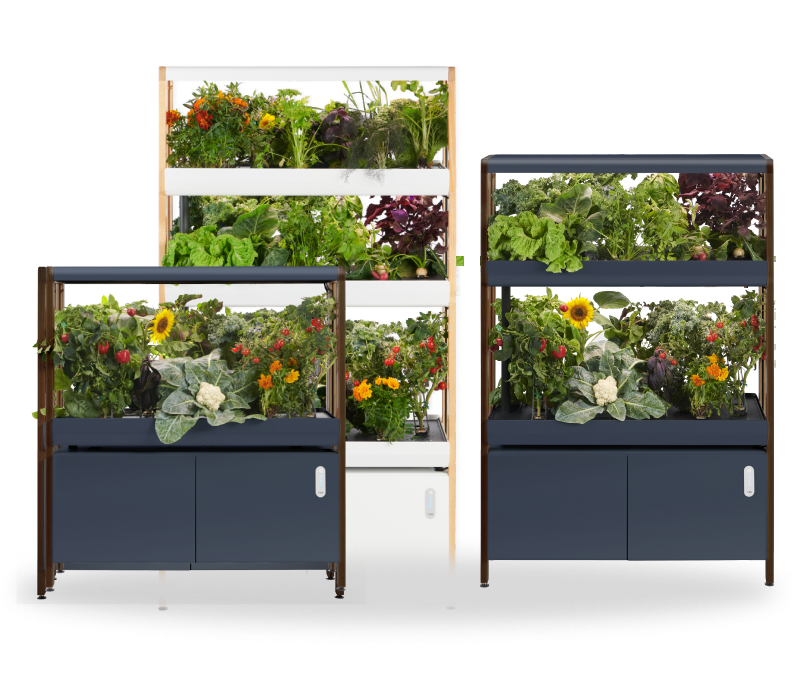 The New
Rise Garden
Grow up to 108 plants with our
award-winning, free-standing garden
Choose from 75+ seed varieties
A truly smart garden
App Enabled

Our friendly companion app makes it easy to manage your abundant garden. From guidance on when to add water and nutrients to a connection to our helpful growing community. Our app unlocks the power to make gardening easy for everyone.

Voice Controlled

"Alexa, how's my garden doing?" Connect your Rise Garden to Alexa for a complete smart home experience. She makes it easy to turn your garden's lights off when watching a movie with your family and can give you reminders to prune or harvest your plants.

Smart Care

No need for wonky sensors and complicated chemistry. We've built Smart Care right into your garden. This AI algorithm uses plant stage data from your app to calculate how much nutrients and water your plants need.

Task Reminders

Plants, just like humans, need regular care and love. Our app gives you friendly reminders to feed, water and nourish your plants as well as when to harvest and pollinate. Use the companion app to track all your plants and get the best guidance for successful growing.

Gardeners love Rise
Chantelle W.

Laura G.

Marie H.

Kathryn