Thanksgiving is right around the corner and we're sure you're busy prepping for your big meal. Your Rise Garden and RG veggies and herbs are here to help!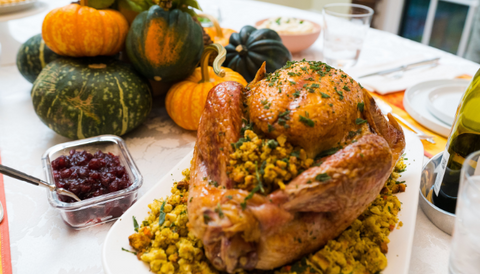 Here are five ways to use your Rise Garden this week:
Skip the last minute search at the grocery store for herbs and harvest them from your Rise Gardens. 
No need to search three different stores looking for thyme this year! Just walk over to your Rise Garden and harvest the herbs you need. 
Make a fall cheeseboard. 
Cheeseboards are all the rage but they seem like they are more difficult than they are. Check out this video to learn how to make a fall cheeseboard for your holiday guests. 
Whip up some compound butter. Then use it on your turkey! 
Making some impressive and tasty compound butter is super easy to make and a great addition to the Thanksgiving table. And, it's absolutely incredible when you use it on your turkey. 
Make a cocktail or a Thanksgiving sangria. 
Herbs elevate cocktails and makes them extra tasty. We love this Cranberry Bourbon Sour from Half Baked Harvest.
Take a moment to relax and breathe! 
Your Rise Garden is an amazing place to take a moment to breathe and relax. Check out one of our meditation sessions from this summer for a self-care break.
And, don't forget to make these delicious vegetarian Thanksgiving side dishes!