The DC40 pump is an essential component of your Rise Garden. We're sharing the top questions we get about our Rise Garden pumps to help you on your gardening journey.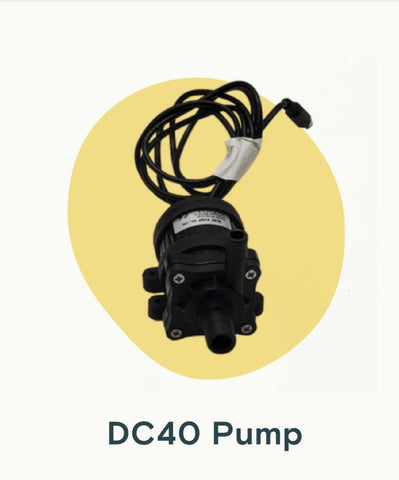 What does the Rise Garden pump look like? 
The pump we use in our Rise Garden currently is the DC40 pump (pictured above). If you've had your Rise Garden for more than about a year (prior to 2022), you may have the original pump known as the DC30, which we no longer carry. 
What if I need to replace the old DC30 pump?
If your DC30 pump needs to be replaced, you should purchase the new DC40.  
If I'm buying a DC40 pump for the first time, what parts do I need to buy?
You should purchase the DC40 pump assembly AND the DC40 power supply. 
Can I plug the DC40 pump directly into the garden control box?
No. If you have the original Family Rise Garden, do not plug your DC40 pump directly into the control box. The DC40 pump is a powerful pump and has its own power source. It will result in reducing the life of your control box and potentially require you to replace the control box. Plugging the DC40 pump directly into the control box of your Rise Garden will also invalidate the warranty. 
If you have the New Rise Garden, we have a new control box design and the DC 40 can be plugged directly into the control box.
How much noise does the Rise Garden pump make?
When you start your Garden, the pump may be a little louder but will quiet down in the following weeks. Hydroponic pumps typically need a break in period, which lasts approximately 2 weeks. You may notice the noise earlier on before your plants and roots have grown but the sound will decrease over time. Most Rise Gardeners can't hear the pump!
What do I do if my pump stops working? 
Start by cleaning it! Here's a tutorial on how to disassemble a DC40 pump. 
If your pump is still not working, see the user manual or reach out to our support team for additional troubleshooting steps. Keep an eye on your garden and manual water each level on a regular basis in order to protect your plants.