Wildly Delicious Episode 9: 
In the season two premiere of Wildly Delicious, we made delicious heart shaped pizzas for Valentine's Day. Sourcing the freshest ingredients from our Rise Garden, we made homemade pizza sauce and topped our pizzas with plenty of herbs and veggies. 
These easy pizza recipes make pizza night a lot of fun--especially when you start by growing your own ingredients! Plus, a heart-shaped pizza is just as fun as it is delicious.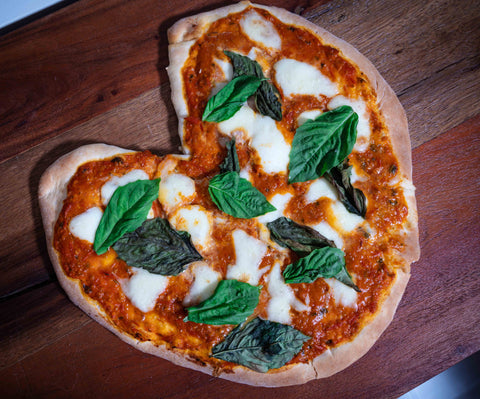 Valentine's Day Heart Shaped Pizza Recipe
Pizza Sauce (enough for 2 pizzas)
4 cups cherry tomatoes

2-3 cloves of garlic, minced

¼ cup loosely packed basil, chopped

1 tsp fennel seeds

1 tsp salt

2 tbsp olive oil
Directions
Step One: Heat olive oil over medium heat and add garlic and fennel seeds. Cook for about 1 minute, or until fragrant. 
Step Two: Add cherry tomatoes and salt, stirring to coat the tomatoes in the garlic and fennel seeds. 
Step Three: Cover with a lid and cook until the tomatoes have burst and begin releasing their juices, then add the basil and stir to combine. 
Step Four: Using an immersion blender on low, blend your sauce together, leaving some chunks throughout.
Step Five: Continue to simmer on low for 10 minutes. 
Step Six: Serve as the base of your favorite pizza toppings and enjoy!
How to Make Heart Shaped Pizza
Directions
Step One: Preheat the oven to 500F.
Step Two: Roll out pizza dough (store-bought works great or find your favorite recipe) into a 12" circle. 
Step Three: Using kitchen shears or plain old scissors, cut a V into the top of your pizza.
Step Four: Shape your pizza into a point at the bottom (unless you're going for more of a Pac-Man vibe!)
Step Five: Add tomato sauce and top with your favorite pizza toppings.
Step Six: Enjoy with your Valentine, Galentine, Palentine, whoever ❤️

Pizza Topping Ideas
Margherita: Tomato sauce, lots of fresh mozzarella, and basil is all you need for this classic. Add basil to your pizza before cooking and top with even more fresh basil when it's done for ultimate flavor!
Mediterranean-Style: Shallots, chopped marinated artichokes, and Kalamata olives add a punch of Mediterranean-style flavors to our tomato sauce. Add briny feta and fresh mozzarella cheese, and top with fresh oregano right out of the oven to bring it all together. 
Pepper Pepperoni: Rise Gardens snackable red peppers are the perfect pairing for red onions and spicy pepperoni hearts. Just fold your pepperoni slices in half and cut out a small V at the top ❤️ and finish with fresh mozzarella or burrata cheese. 
Recipe by RG Ambassador, Kelsey Steeves. To see more of her work, click here.