Making Instagram-worthy holiday drinks are easier than you think! Those pretty holiday ice cubes add a little extra flair to your holiday drinks--alcoholic or non-alcoholic and are easy to make with a few ingredients. 
We love a good cocktail, especially during the holidays, and like to have a Cocktail Herb Garden on hand throughout the year. But, there's something special about those holiday drinks. They need an extra special touch. That can come in the way of these easy to make pretty holiday ice cubes. We even added a little bit of edible gold for something sparkly. It's completely optional but we found it on Amazon in case you want to use it as well.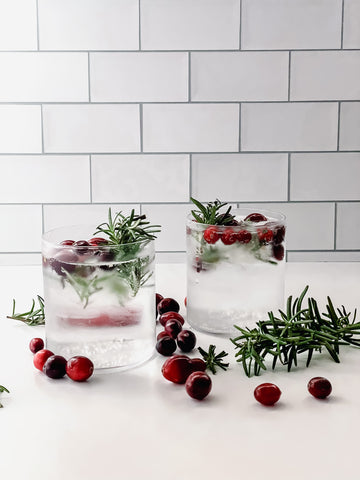 Here's what you'll need:
A square rubber ice cube tray
Fresh cranberries
Rosemary from your Rise Garden
Optional: Edible Gold Flakes
Directions
Step One: Harvest 2-3 sprigs of rosemary from your Rise Garden and cut them into segments that will fit your ice cube tray. Set aside momentarily.
Step Two: Add 3-4 fresh cranberries and a rosemary segment to each ice cube well. 
Step Three: If using the edible gold flakes like we did, use a skewer or knife to gently segment the edible gold into each well. Don't touch it. It will stick to your fingers and be unusable. 
Step Four: Fill the wells with water--pressing the cranberries and rosemary down to make sure sure they are in the wells. Freeze. Add to cocktails and enjoy! 
*If you want clearer ice cubes, boil it first and then let it cool.