Crazy plant lady is the new crazy cat lady and I am ALL IN! I'm obsessed with my little baby plants growing inside my house and it brings me daily joy. I have 2 of the single-level gardens side by side, and herbs and lettuces grow best in my gardens. I love cooking with fresh herbs. One of bigger complaints, before growing my own, is that the store bought herbs would go bad before I could use them all. With Rise Gardens, I just snip off what I need and there's not waste, then the herbs grow back.
The Rise Garden herbs grow SO well that sometimes I'm wondering how I could use them more often. I love that I can just snip off what I need and there's no waste or rot. Below I share some of my favorite easy recipes and ways to add more cilantro into your cooking. I also share a great way to store them when you're ready to harvest the plant from your garden and plant something new.
Here are a few of my favorite uses for cilantro from my Rise Garden:
Cilantro.
This little herb is loaded with antioxidants and has microbial properties that protects the body against infections and illnesses. The more we can do to strengthen our bodies immunity the better! So when and how to use it?
Guacamole, obviously.
If I was stranded and could only eat one food for the rest of my days, it would be guacamole. So snip off a couple tablespoons, chop it up and mix it in with your avocados. To make it extra, add 1 tsp cumin, garlic salt and pepper to taste and a squeeze of lime. You can add a dash of cayenne pepper too, it gives it a nice kick!
Cilantro Lime Dressing.
This is so good on southwestern style salads- lettuce (from your Rise garden!), protein of choice, avocado, beans, peppers, favorite veggies. Top with this dressing. You could add sprouts, hemp seeds or pumpkin seeds too. Yum! I've even cooked chicken in the Instant Pot, shredded it and added this dressing to it, and the family loved it. I've also used it as a marinade for chicken before BBQ.
Cilantro Lime Dressing Recipe
1/3 cup plain yogurt (I use oat or coconut but can use your favorite plain, full fat yogurt
1/3 cup mayonnais
1/2 cup cilantro or mor
2 stalks green onio
1 garlic clove. Mince
1 small slice jalepeno
1tbs lime juice
1/2 tsp salt
1/4 cup extra virgin olive oi
Spinach Zucchini Soup.
One of my favorite and super easy soups has cilantro in it and my whole family loves it. They have no idea how many good veggies are loaded into this light yet smooth textured soup. We love to dip toasted sourdough bread into it.
Spinach Zucchini Soup Recipe
3 tablespoons extra-virgin olive oil + a drizzle at the end
2 cloves garlic, chopped
2 medium onions, roughly chopped
1tsp sea salt, plus more to taste
2 1/2 cups potatoes cut into 1/2-inch cubes, peels on
2 1/2 cups zucchini, loosely chopped, skin on
4 cups bone broth, chicken or vegetable stock
4+ cups fresh spinach leaves, loosely packed
1 cup cilantro, loosely chopped
one lemon
In a large pot over medium-high heat, add the olive oil. When the oil is hot (but not smoking) add the garlic and onions and sauté for a few minutes along with a pinch of salt - just until they soften up a bit. Stir in the potatoes and zucchini. Add the stock. Bring to a simmer and cook until potatoes are soft throughout, roughly 10-15 minutes.
Stir in the spinach, and wait for it to wilt, just ten seconds or so. Now stir in the cilantro. Puree with a hand blender until smooth. Whisk in a big squeeze of lemon juice. Now taste, and add more salt if needed. Finish with a drizzle of olive oil and another pinch of salt and serve.
Top Pho with Cilantro.
This is a great recipe I use although I alter it a bit. I use avocado oil and organic coconut sugar for example. Use the ingredients you feel most aligned with.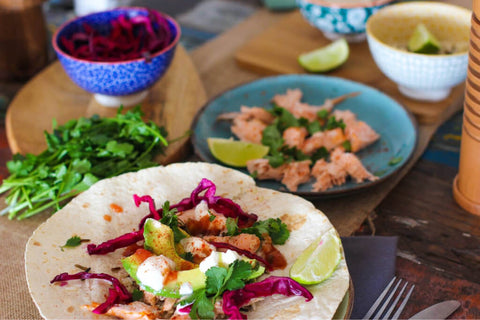 More ways to use cilantro:
Herbs may seem insignificant, but they are loaded with goodness our bodies need. Besides adding flavor that takes food to the next level, cilantro boasts dietary fiber, vitamins A, C, E, K, calcium, iron, potassium, and magnesium. Try adding in a little here and there to what you're already making, and then check out these awesome recipes for nourishing delicious meals.
Add cilantro when you're cooking rice, quinoa, grains etc. Throw it in the water and let it add a little extra flavor and nutrients.
Also add cilantro to bone broth as you prep it. You can use the stems too.
If you're a juicer, juice the cilantro, stems included. It's a potent punch, try mixing it with cucumber.
Add a bit to a green smoothie. Start small and add a little more each time.
Add a few tablespoons on top of salads and soups. No more boring plain salads, add herbs, buts, seeds, sprouts, beans and veggies to add variety and nutrients.
It's really great on sweet potatoes with a little bit of grassfed butter and garlic salt.
Olive oil, lemon juice, salt, pepper and cilantro is a super easy salad dressing.
Add a sprig in your water and sip. Bonus points if you squeeze a lemon in too.
Storing Cilantro for Later
Even though you can get it fresh from the Rise Garden in just the quantities you want, after a while, it's time to harvest the plant. Trim it from your garden, place in a Ziplock bag, seal out extra air and put it right in the freezer. No need to extra prep it, store it in oil or water. Just throw it in a freezer style sealed plastic bag and freeze. Then, pull it out when you're ready to use. This freeze method works best in salad dressings and soups rather than fresh salads or guacamole.
Photo Credits:
Jamie Coupaud
Lindsay Moe
Sara Dubler