Stovetop potpourri is an easy way to make your home smell like Christmas. Harvest some rosemary from your Garden and use this recipe for a beautiful seasonal scent this holiday season without the need for candles.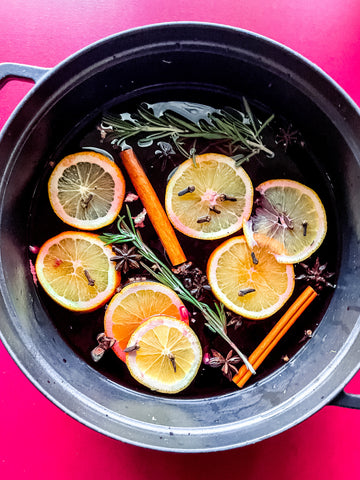 Stovetop Christmas Potpourri
Ingredients
1 cup fresh cranberries or pomegranates 

1 orange 

2 star anise

2-3 cinnamon sticks

1 teaspoon whole cloves

1 vanilla bean 

2 small clippings of fresh rosemary

1 cup cranberry juice

water
Directions 
Step One: Cut orange into slices. Cut open the vanilla bean. 
Step Two: Add orange slices and vanilla bean along with the other ingredients to a large pot.
Step Three: Add water to fill the pot to approximately 2/3 full. 
Step Four: Bring the pot to a gentle boil on medium heat, then reduce heat to a simmer. Enjoy!**
**You can enjoy for hours but keep an eye on the water level and add water as needed so that it does not evaporate completely.