With the holiday season behind us, many are overwhelmed by the thought of cooking and preparing meals (I know I am!). I've become somewhat bored of my usual meals and can't ever seem to think of what to make next. Enter, this incredibly flavorful beet salad. It's great for a lunch option for those of you working from home (and can be easily packed for lunch at the office!) or would make a nice side paired with a roasted chicken, grilled prawns, or a light pasta dish.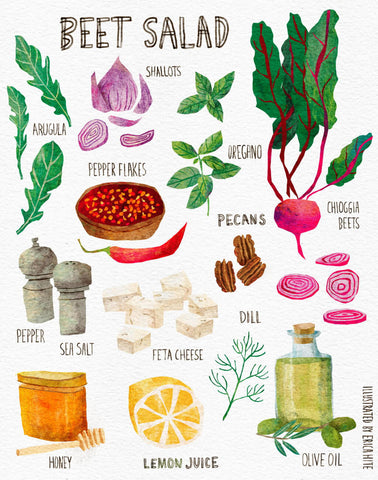 Of course, the beautiful Rise Gardens Chioggia beets and arugula are the stars of the show in this recipe, but let's not allow the marinated feta to fall behind! You'll notice that this beet salad doesn't have a dressing… well, this feta is just so flavorful that a dressing isn't necessary! I like to add a little bit of the "juices" from the marinade on top of my salad as well. This marinated feta cheese can be made in advance and used on essentially any other dish you'd like. In our house, we love it on top of pasta, pizza, and soups!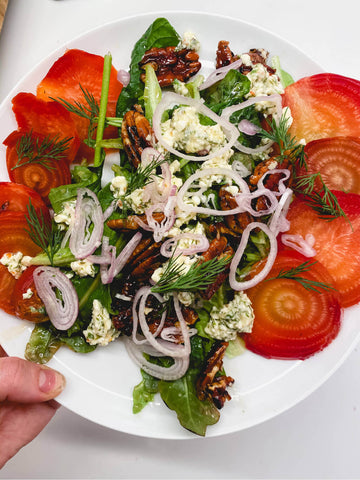 Rise Gardens Beet Salad Recipe
Ingredients:
4 Chioggia beets
2 cups arugula
1 shallot
½ cup pecans
2 tbsp honey
200g feta cheese, crumbled (200g is about one small block of feta the size of your palm)
1 tsp chili flakes
2 tsp oregano
Juice of 1 lemon
3 tbsp olive oil + 1 tbsp olive oil
Salt
Pepper
Fresh dill, for garnish
Serves: 2
Directions
Step 1

 

Preheat oven to 400F.
Step 2

 

Wash the beets under cold water and cut off the tops and the bottoms.
Step 3

 

Coat the beets with 1 tbsp of olive oil and wrap individually in tinfoil. Bake at 400F for approximately 50 minutes, or until beets can be pierced with a fork. Unwrap the beets from the tinfoil and set aside to cool.
Step 4

 

While beets are cooking, combine crumbled feta, chili flakes, oregano, lemon juice, 3 tbsp olive oil, a pinch of salt, and ½ tsp freshly cracked pepper. Set aside to marinate. Note: this can be done in advance (i.e., the night before!) so that the flavors have lots of time to combine with the feta cheese.
Step 5

 

In a small pan over medium heat, add pecans and honey. Sprinkle with a pinch of salt and stir until pecans are fully coated. Keep your eye on these as they burn quickly. Transfer hot pecans to a piece of parchment paper and arrange them so that they're flat and aren't touching each other. Allow to cool!
Step 6

 

Cut shallot into very thin slices and set aside.
Step 7

 

Once beets have cooled down, slice into thin medallions (or cubes if you prefer). 
Step 8

 

To assemble, arrange arugula and shallots in a bowl or on a plate. Top with roasted beets, honey pecans, marinated feta, a little bit of the marinade "juices", and fresh dill. Enjoy!

Recipe and photographs by: Kelsey Steeves
Illustration by: Erica Hite