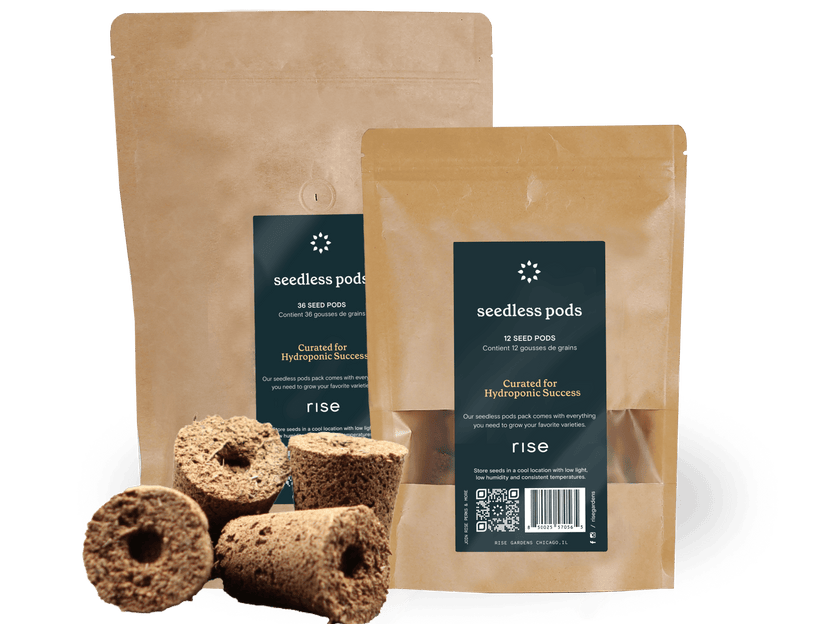 Seedless Pods
Curated for hydroponic success™
Take your garden to the next level with fun experiments using our organic Seedless Pods. They are optimized for both early stage germination and continued growth with the perfect blend of air, water and biomass.

Composed of a mix of coco coir and peat moss, Rise Seedless Pods supply natural nutrients to promote early growth and dried at the end of the manufacturing process to ensure a sterile environment and prevent pests. Packaged in sustainable materials and designed to fit perfectly in your Rise Garden.
More details

Match with all gardens

Ships in 1-2 business days

Shelf stable for 1 yr . Thoroughly tested
"These Rise Gardens are truly amazing! I've never tried gardening in my life, and Rise made it incredibly easy to get started growing."
You may also like...
Family Garden Extension
Boost your garden yield by adding an extra level. Not compatible with the New Rise Garden
Our seed pods are made from a combination of coco coir and peat moss!

For big veggies (like eggplant, tomato, and cucumber) a Family Garden is ideal, as it offers extra growing space to allow the plants to flourish. Our smaller veggies (like lettuces and herbs) can be grown in any of our Garden models (Family Gardens and Personal Gardens).

Make sure that the maximum height of the plant does not exceed 24 inches for a Family Garden and 12 inches for a Personal Garden. The plants from Rise Gardens catalog are all dwarf carieties that were tested in our gardens.

Some plants do not do well in a hydroponic environment due to their structure. Specifically, Root Vegetable Plant Pods like carrots and potatoes need low levels of moisture around their root system in order to form properly and not mold. You can try our

Root plants

, that have been thoroughly tested and succesfully grow in any Rise Gardens

Our plant pods are a blend of coco coir and peat moss.