Our newest line of seed pods are out! Microgreens are nutrient-packed superfoods that grow quickly and have tons of health benefits. Learn more about microgreens from our plant scientist, Angelo, here. Microgreens can be found in a lot of supermarkets but not all. They can also be found at farmer's markets in the summer. But, not everyone has access to these superfoods. And, they tend to have a hefty price tag. 
Aside from access and cost, here are 5 reasons you should be growing microgreens at home: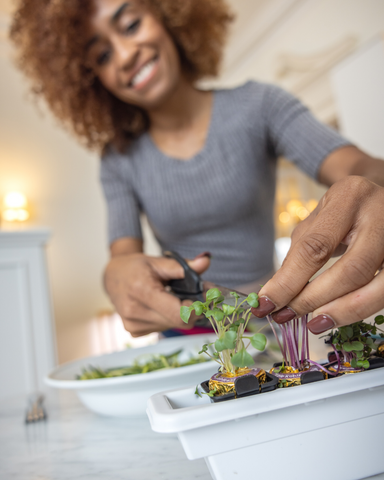 They are easy to grow.
Start them in your Rise Gardens nursery and then transfer them to your garden when they are ready (about 3-5 days). They are ready to eat in 10-14 days!
They are super nutritious.
We mean really nutritious.  The Journal of Agricultural and Food Chemistry analyzed 20+ different types of microgreens and found that they can contain anywhere from 3-40x the nutrients as the fully grown version of the plant. Sign us up!
Your kids will love growing them.
Growing microgreens is a great introduction to gardening, especially for kids because they grow so quickly. Don't be surprised if your kids check them out every morning when they wake up. They'll be amazed at the difference every day! 
They add a punch to your recipes.
Microgreens produce intense flavors, vivid colors, and a crisp texture that adds a little extra something to salads, avocado toast, potatoes, eggs, and more.
They help you plate your recipes like a chef.
Do it for the 'gram! Adding a pinch here and there to the plate as a garnish, like chefs do, is a little way to impress your dinner guests!