We're getting cozy but still keeping it fresh all autumn long. Fresh ingredients boost the flavor of any recipe. The quality of ingredients matter to top chefs and home cooks alike. That's why so many people grow their own food. Whether you are cooking, baking or assembling, fresh is always best.
Let's get baking. Head to your Rise Garden, harvest some rosemary and whip up a batch of these apple cheddar rosemary cornbread muffins to go with your chili or soup.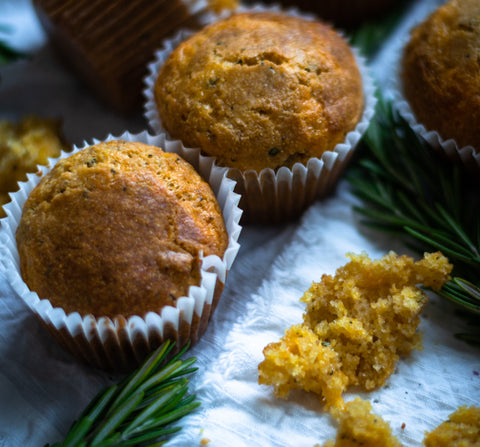 Apple Cheddar Rosemary Cornbread Muffins Recipe
Prep Time: 15 mins
Cook Time: 20 mins
Total Time: 35 mins
Serves: 6-8p
Ingredients
2 tbsp butter

1 cup apples, peeled and diced

1 tbsp fresh rosemary, finely minced

1 cup cornmeal

1 cup flour

1/3 cup light brown sugar

1 tsp + pinch salt

½ tsp baking powder

½ tsp baking soda

2 eggs

½ cup avocado oil (or other neutral tasting oil)

1 cup milk (dairy or non-dairy)

1 cup shredded cheddar cheese
Directions
Step One: Preheat the oven to 375°F. Grease a 12-cup muffin tin with oil or use muffin liners.
Step Two: Melt the butter in a pan over medium heat, then add the apples and a pinch of salt. 
Step Three: Sauté for about 5 minutes until the apples are caramelized. Set aside to cool.
Step Four: In a medium-sized mixing bowl, combine the cornmeal, flour, brown sugar, salt, baking powder, and baking soda. In another mixing bowl, beat the eggs. Add the oil to the eggs and whisk until fully incorporated. Then, stir in the milk.
Step Five: Add the wet ingredients to the dry ingredients and whisk until smooth. 
Step Six: Stir in the caramelized apples, fresh rosemary, and cheddar cheese.
Step Seven: Fill the muffin tin with batter and bake for 20 minutes, or until the muffins are golden and cooked through (you should be able to pierce them with a toothpick and have it come out clean!)
Step Eight: Best served warm with a smear of butter and a side of chili.