There is nothing quite like waking up in the morning and taking a stroll through my dining room and past my Rise Garden as I head into the kitchen to make myself an oat milk cappuccino. On the weekends, I harvest some basil, green onion, and tomatoes for a breakfast frittata for me and my toddlers. I serve my kids breakfast and before I get back to sit down, they have already finished their breakfast and asking for more. I harvest a handful of strawberries for each of them.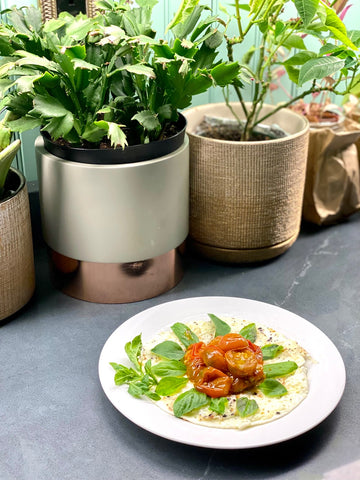 At snack time, we are always racing to see who can harvest our tomatoes and strawberries at the first sign of ripeness. Of course, they usually win since I'm outnumbered, but I don't mind. There is something so joyous when I see my kids push up a chair to our Rise Garden and pick something to eat or pollinate the flowers with a tiny paintbrush. They constantly amaze me when I see one of them eating a raw green onion (almost like you would a carrot) or the leaf of an herb.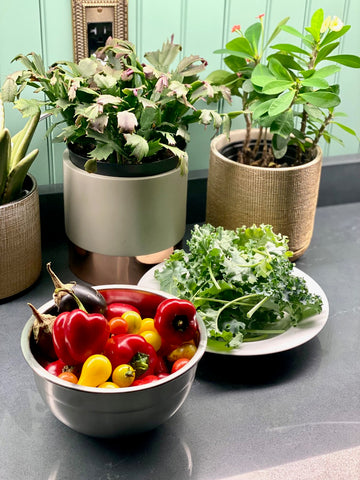 Just before dinner, I harvest green onions, peppers, and kale to make a stir fry. My kids have mastered chopsticks and love picking up the sliced peppers out of their ceramic takeout bowls. It's amazing to think how much our Rise Garden has become a staple in our home and an extension of our kitchen over the past year. We still have the same strawberry plants from almost 1 year ago and they fruit weekly. My kids and I are now experimenting to see how long we can grow kale and tomatoes. Every night, we find ourselves seated at our dining room table with nothing more than the light coming from the garden and the slightest, almost musical, sound of flowing water.
Our Rise Garden has also become a conversation piece. Last fall, I presented to my local garden club about the gardening system. When we host friends and play dates, someone always comments about how wonderful our garden is. I watch my kids tell our friends about how the garden works, from pollination to picking something to eat. I couldn't imagine what life would be like without our Rise Garden. It brings us so much happiness (and produce)!
Sheila Hittesdorf has a degree in horticulture with a focus on plant breeding and genetics. She is an active member of her local garden club and served on her borough's environmental commission. She enjoys indoor house plants, outdoor vegetable gardening, landscaping, and her Rise Garden. Sheila is a single mother of two children and builds a sense of community with her passion for plants and love for cooking.