We could all write a love letter to salt. It makes just about everything taste better. However, when it comes to salt, too much of a good thing can end up being an issue. We've all had a dish that was too salted and it's almost inedible when that happens. Salt and pepper are completely subjective and a personal choice.
Of course, the real issue is when your doctor shares with you that your lab results are showing you have too much table salt in your diet or other bigger health concerns such as blood pressure concerns.** That's when a real action takes place.
Whether you are reducing your salt intake because of a health concern or a desire to prevent any health concerns, using herbs is a wonderful first step. Herbs pack a flavorful punch, add depth to recipes, and provide additional nutritional benefits.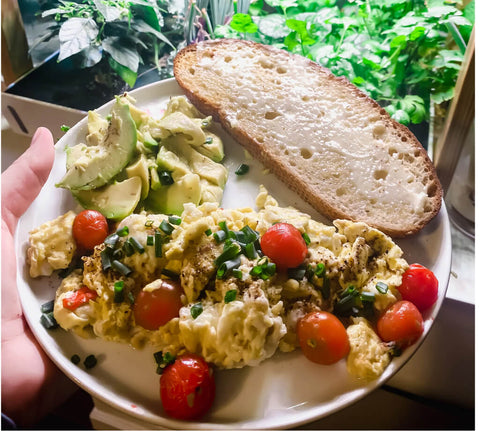 Here are a few examples of how to use herbs to replace salt:
Mint—Salads and pastas
Chives/Green Onions—Eggs, salads, soups, potatoes, fish, chicken, and casseroles.
Basil—Pesto, marinades, salad dressings, salads, sandwiches, and sauces
Rosemary—Roasted or grilled meat, breads, pizza, sauces, and potatoes
Cilantro—Salads, soups, salsas, tacos, and chicken dishes
Dill—Omelettes, seafood, potato salads, and cucumber dishes
Oregano—Marinades, eggs, breads, salad, and sauces
Thyme—Slow-cooked or roasted meals, casseroles and gratins, chicken, and roasted vegetables
---
Herbs to Replace Salt in Your Diet
Another pro-tip for using herbs to replace salt is to make your own seasonings using dried herbs from your garden and/or pantry-staple spices. A few recipes to try include:
Italian Seasoning by The Endless Meal
Homemade Herbs de Provence by The Cookie Rookie
Dry Rub for Chicken by Seeking Good Eats
Homemade Old Bay Seasoning by Savory Simple
Homemade Chili Seasoning Mix by Vegan in the Freezer
Using your Rise Garden makes it easy to always have these herbs on hand to flavor any dish!
**We are not doctors or providing any medical advice. Please see your physician to discuss any and all health concerns and diet changes.