We love making our own tea combinations using fresh herbs from our Rise Garden. We've pulled together our favorite combinations to help you plan your tea garden!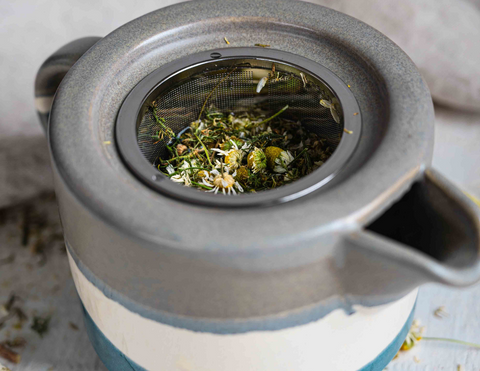 Wake-Up Tea: Peppermint & Rosemary
Peppermint promotes alertness, is great for headaches, and aids digestion, making it a great herb to start the day with. Rosemary improves memory and cognitive function, helping you to start off your day on the right foot.
Sleepy Tea: Chamomile & Lavender
Both chamomile and lavender have calming effects, relieve stress, and help to promote a state of ease. Make this tea when you need to be grounded, calmed down, or are heading to bed for the night.
Stomach-Soothing Tea: Lemon Balm & Ginger (peeled & dried ginger)
Lemon Balm is great for indigestion and acid reflux, while ginger increases circulation, promotes digestion, and increases the potency of other herbs. Combine the two and you have a stomach-soothing solution. Fresh ginger can be peeled and dehydrated for ultimate flavor.
Our Favorite Tea: Ginger & Chamomile
How-To
For dried tea (to store): use equal parts of each ingredient and store in an air-tight container. Use 2 tbsp of dried tea for each 500ml (16oz) of hot water. Steep 3-4 minutes, or until you've reached your desired flavor.
Try any of these blends using fresh herbs, about 2 tbsp of equal parts fresh herbs will do the trick. Steep for 5-6 minutes for full flavor. 
Authored by: Rise Gardens Ambassador, Kelsey Steeves. For more of her work, please visit her website.