Peach season is upon us and we're soaking up every last minute of stone fruit season with this Peach Caprese Salad. These juicy summer peaches are perfectly paired with greens, mozzarella, prosciutto, fresh basil leaves, and a balsamic glaze.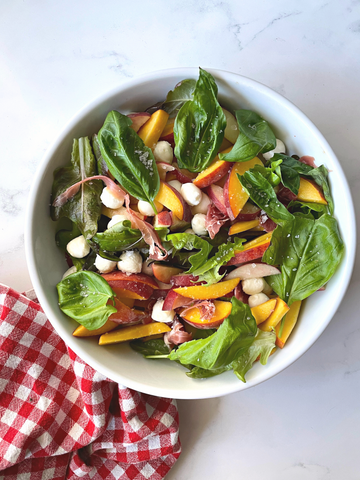 Peach Caprese Salad 
Prep Time

10 min

Cook Time

0 min

Total Time

10 min

Serves

4p
Ingredients
4 peaches, thinly sliced

2 tbsp olive oil

Juice from a lemon

1 head of alfresco mix lettuce

6 oz mozzarella pearls or mini balls

2 oz prosciutto, torn

2 tbsp balsamic glaze

12-15 basil leaves

Sprinkle of sea salt, to taste
Directions
Step 1: Prep ingredients.
Step 2: Place sliced peaches in a small mixing bowl and toss with olive oil and lemon juice.
Step 3: In a serving bowl, add the peaches, mozzarella, prosciutto, basil and alfresco mix. Toss to combine. Drizzle the balsamic glaze and sprinkle sea salt on top, to taste.
Step 4: Serve immediately.