Introducing: The Personal Rise Garden. This smart hydroponic countertop garden comes with everything you need to get started. You can grow 8+ plants at any given time and completely turn over your garden in as little as 25 days. No green thumb needed.
We're thrilled to offer this new, inclusive garden! Our new countertop garden is made to fit anywhere in your home, with minimum maintenance, and a high yield.
To help you with your purchase, we have compiled the top 10 questions we've received so far for the countertop garden. Do you have a question we didn't cover here? No problem. Email us at support@risegardens.com and a member of our support team will be able to assist you.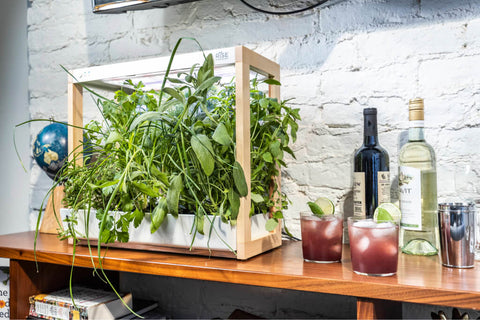 Top 10 Personal Rise Gardens Questions
How many Personal Gardens do you have to ship before Christmas?

 

Since this is the first shipment of our

 

new countertop gardens, we have a very limited amount. We expect to sell out so if you would like to purchase it as a gift for the holidays or want to have the garden to start fresh on January 1, we recommend you purchase it as soon as possible.
What are the shipping costs?

 

Shipping cost will vary depending on when the order is placed. Unfortunately, around the holidays shipping costs increase all around the US. For pre-holiday orders we will be charging a flat shipping fee of ($32.67) for every order. This will include the shipping cost of the Garden and the Starter kit.
What will arrive before Christmas?

 

We are doing everything in our power to get Gardens to every customer's home by Christmas. However, as of now all we can guarantee is that the starter kit will arrive at customers' homes in time for Christmas if they place their order before December 14th. The Personal Rise Gardens will ship by the end of the year.
All about the garden
What can I grow in the garden?

 

You can grow any of the plants for sale on our website excluding: little bing tomatoes, snackable red & fresh bite orange peppers, and eggplants. Stay tuned, we will be launching new seeds that can be grown in all of our gardens soon.
How many plants can I grow? Each garden comes with a 8-hole tray so at any given time you can grow up to 8 plants. When growing larger plants (like lettuces), keeping surrounding holes empty can help increase the speed at which the plants grow because they won't need to compete for light. Our trays are also modular and we have a 12-hole tray so if you are planning to use the garden to grow smaller herbs and vegetables (like chives, celery, dill, or sage) then you could purchase a 12-hole tray and increase the quantity of plants you grow.
What is the size of the garden?The Garden is 18 x 11 x 16 inches (L x D x H)
What is the garden wattage?

 

Wattage - 45W (including lights, pump, control, etc.)
What comes with the garden?

 

Everything you need to get your indoor garden started! We include: garden with LED lights, pump, power cord, 8 seeded pods (a mixed lettuce and mixed herb pack), nursery for sprouting seeds, 12 net cups, and nutrients (Sprout, Thrive and PH).
What is the grow height?

 

Approximately 12 inches
How much water does it hold?

 

One gallon of water will fill the garden up to the max fill line.