The Rise Garden
(16) Starter Plant Variety Pack
(3) 4-Pod Tray per level
(18) Net Cups per level
(1) Nursery

Single Level:

General Dimensions:
Height: 39.5 inches
Length: 16.25 inches
Width: 36.25 inches
Weight: 50 lbs

Box Dimensions:
Base Box: 43 x 21 x 20
Extensions Box for Level 2 or Level 3 Gardens: 38 x 19 x 6


Double Level:

General Dimensions:
Height: 53 inches
Length: 16.25 inches
Width: 36.25 inches
Weight: 65 lbs

Box Dimensions:
Base Box: 43 x 21 x 20
Extensions Box for Level 2 or Level 3 Gardens: 38 x 19 x 6


Triple Level:

General Dimensions:
Height: 66.75 inches
Length: 16.25 inches
Width: 36.25 inches
Weight: 80 lbs

Box Dimensions:
Base Box: 43 x 21 x 20
Extensions Box for Level 2 or Level 3

Features:
+ Your choice of charcoal or cloud colorways perfect for the kitchen or living room in any style dwelling
+ Solid wood frame
+ Steel cabinets and shelves built to last
+ Robust circular water system ensuring your plants get nutrients when they need it
+ Easy-to-use companion app guides you through growing from seed to harvest

Shipping:
With our Rise Garden membership, we offer free shipping to your door for any order over $30. Tracking information will be sent to you as soon as your order leaves our warehouse.

We deliver to the 48 contiguous states, D.C., and Canada. For additional details please visit our Terms & Conditions page.

Return Policy:
We take great pride in the quality of our goods. If for any reason you are not satisfied with your purchase, you may return the item(s) within 90 days of receiving the order for a full refund less the cost of return shipping. All items must be unused and in their original condition and must be shipped back in its original box and packaging.

Please note that we cannot accept returns on items damaged through normal wear and tear.
In the event that an item arrives defective or damaged, please let us know immediately upon receipt and we will make it right.

If you purchase a membership with your garden the membership can only be returned if you return the garden. We will be unable to return your membership after you have purchased it for any other reason.

For further assistance please contact support
(16) Starter Plant Variety Pack
(3) 4-Pod Tray per level
(18) Net Cups per level
(1) Nursery per level

Single Level:

General Dimensions:
Height: 39.5 inches
Length: 16.25 inches
Width: 36.25 inches
Weight: 50 lbs

Box Dimensions:
Base Box: 43 x 21 x 20
Extensions Box for Level 2 or Level 3 Gardens: 38 x 19 x 6


Double Level:

General Dimensions:
Height: 53 inches
Length: 16.25 inches
Width: 36.25 inches
Weight: 65 lbs

Box Dimensions:
Base Box: 43 x 21 x 20
Extensions Box for Level 2 or Level 3 Gardens: 38 x 19 x 6


Triple Level:

General Dimensions:
Height: 66.75 inches
Length: 16.25 inches
Width: 36.25 inches
Weight: 80 lbs

Box Dimensions:
Base Box: 43 x 21 x 20
Extensions Box for Level 2 or Level 3

Features:
+ Your choice of charcoal or cloud colorways perfect for the kitchen or living room in any style dwelling
+ Solid wood frame
+ Steel cabinets and shelves built to last
+ Robust circular water system ensuring your plants get nutrients when they need it
+ Easy-to-use companion app guides you through growing from seed to harvest

Shipping:
With our Rise Garden membership, we offer free shipping to your door for any order over $30. Tracking information will be sent to you as soon as your order leaves our warehouse.

We deliver to the 48 contiguous states, D.C., and Canada. For additional details please visit our Terms & Conditions

Return Policy:
We take great pride in the quality of our goods. If for any reason you are not satisfied with your purchase, you may return the item(s) within 90 days of receiving the order for a full refund less the cost of return shipping. All items must be unused and in their original condition and must be shipped back in its original box and packaging.

Please note that we cannot accept returns on items damaged through normal wear and tear.
In the event that an item arrives defective or damaged, please let us know immediately upon receipt and we will make it right.

If you purchase a membership with your garden the membership can only be returned if you return the garden. We will be unable to return your membership after you have purchased it for any other reason.

For further assistance please contact support
(16) Starter Plant Variety Pack
(3) 4-Pod Tray per level
(18) Net Cups per level
(1) Nursery per level
PH Balance, Thrive, & Sprout

Single Level:

General Dimensions:
Height: 39.5 inches
Length: 16.25 inches
Width: 36.25 inches
Weight: 50 lbs

Box Dimensions:
Base Box: 43 x 21 x 20
Extensions Box for Level 2 or Level 3 Gardens: 38 x 19 x 6


Double Level:

General Dimensions:
Height: 53 inches
Length: 16.25 inches
Width: 36.25 inches
Weight: 65 lbs

Box Dimensions:
Base Box: 43 x 21 x 20
Extensions Box for Level 2 or Level 3 Gardens: 38 x 19 x 6


Triple Level:

General Dimensions:
Height: 66.75 inches
Length: 16.25 inches
Width: 36.25 inches
Weight: 80 lbs

Box Dimensions:
Base Box: 43 x 21 x 20
Extensions Box for Level 2 or Level 3

Features:
+ Your choice of charcoal or cloud colorways perfect for the kitchen or living room in any style dwelling
+ Solid wood frame
+ Steel cabinets and shelves built to last
+ Robust circular water system ensuring your plants get nutrients when they need it
+ Easy-to-use companion app guides you through growing from seed to harvest

Shipping:
With our Rise Garden membership, we offer free shipping to your door for any order over $30. Tracking information will be sent to you as soon as your order leaves our warehouse.

We deliver to the 48 contiguous states, D.C., and Canada. For additional details please visit our Terms & Conditions page.

Return Policy:
We take great pride in the quality of our goods. If for any reason you are not satisfied with your purchase, you may return the item(s) within 90 days of receiving the order for a full refund less the cost of return shipping. All items must be unused and in their original condition and must be shipped back in its original box and packaging.

Please note that we cannot accept returns on items damaged through normal wear and tear.
In the event that an item arrives defective or damaged, please let us know immediately upon receipt and we will make it right.

If you purchase a membership with your garden the membership can only be returned if you return the garden. We will be unable to return your membership after you have purchased it for any other reason.

For further assistance please contact support
This garden is amazing! I highly recommend it and if you have children I recommend it even more! My daughter (5) loves our garden and has been learning so much from it!
The truly smart garden
Turn Alexa into your gardening assistant.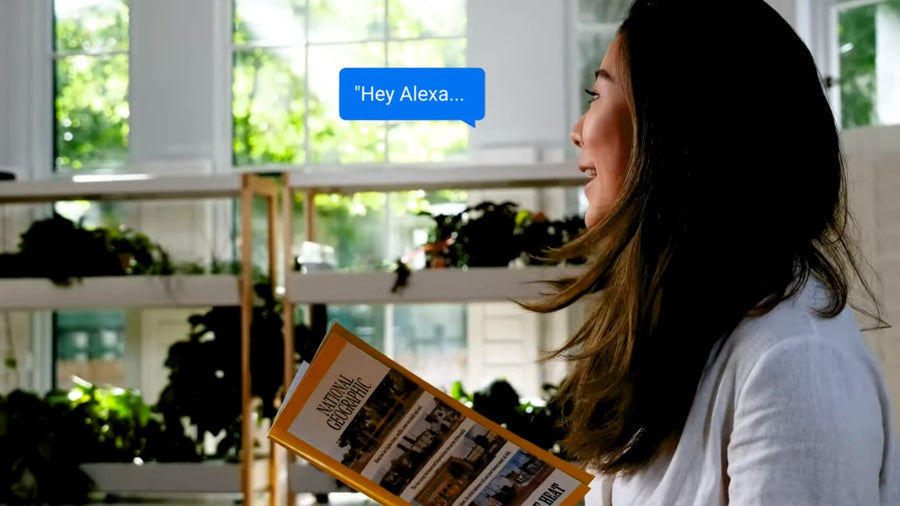 FAQs
Yes! The New Rise Garden has a modular design that allows you to scale the size of your Garden from 1 level to 3 levels. In a Single Garden, you can add additional levels at any time. You can also utilize 8-pod Tray Lids and 12-pod Tray Lids to increase the harvesting yield from your Garden.

Each level comes equipped with Tray Lids that allow you to grow 12 plants in each level of the Garden.You can expand capacity with our 12-pod tray lids and gro up to 36 plants per level.

No matter your expertise level, or what you're looking to grow, we have an indoor garden that is perfect for you! Now you can grow your favorite herbs and veggies year round!

Our smart Rise Gardens App makes calculations each week to help you add nutrients into your Garden. When running "Care," the app will instruct you to add a combination of Sprout, Thrive, Blossom, and pH Balance that is customized to your Garden!

We´ve designed our Nurseries to be the perfect humid, warm environment that is optimal for germination and creating strong, resilient plants. Additionally, it allows you to grow your Garden in "stages" so that you can harvest your plants all around the same time, rather than harvesting your shorter-life plants (like lettuces) before you harvest your longer-life plants (like basil). For more information, please check out our

Nursery Guide

. And, for more information about how to stage your Garden, please check out our

Plant Spacing Guide,

.

Yes, there is some storage space inside the cabinet for room to store your plant nutrients and your extra seed pods.

You will receive 16 complimentary seed pods with the purchase of your Garden. These seeds will be an assorted mix of lettuces, herbs, roots and leafy greens. If you'd like to purchase some additional seeds to grow in your Garden, you can browse our available varieties

here

. Or, if you'd like to grow plants that are not available on our website yet, you can purchase Seedless Pods

here

. Note that our seed varieties have been tested and approved by our Plant Scientists to grow well in a hydroponic environment. We cannot guarantee that other plants will grow well using our hydroponic system.