Make date night extra special with these delicious heart shaped cheese ravioli! It takes a few steps but it's actually pretty easy and the heart shaped pasta is super fun.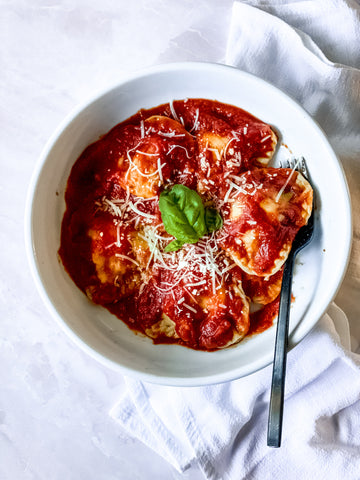 Date Night Heart Shaped Cheese Ravioli
Prep Time 1hrs Some Inactive
Cook Time 10min
Total Time 1hr 10mins
Serves 2p
Pasta Ingredients
2 cups all-purpose flour

1sp sea salt 

1/2 tsp fresh cracked pepper

2 eggs

4 tbsp water

2 tsp extra virgin olive oil 
Filling Ingredients
1 cup whole milk ricotta

1/2 cup parmesan cheese, grated

1/2 tsp lemon zest

1/3 cup fresh basil, chiffonaded 

Salt and Pepper to taste
Other Ingredients
Pasta Sauce

Freshly Grated Parmesan
Directions
Step One: For the pasta: In a medium bowl, combine the flour, salt, and pepper. Create a well in the center of the dry ingredients and then add in the eggs, water, and olive oil into the well. Using a fork, wish the eggs in the middle and then begin stirring the wet and dry ingredients together until combined. 
Step Two: One a rough dough begins to form, use your hands to mix together the dough until ingredients are fully incorporated. Knead the dough for 3 minutes or until it is elastic. Stretch the dough about 8 inches. If it doesn't tear, it's ready. 
Step Three: Once tacky and elastic, place the dough ball into plastic wrap and let it rest for at least 30 minutes but up to 1 hour. 
Step Four: Once rested, work in batches. Using 1/4 of the dough, shape the dough into a rectangle. Thin a bit, if needed, with a rolling pin. Working on the largest setting of the pasta machine, roll out the dough, folding it into a rectangular shape again. Repeat for each of the 4 portions of the dough. 
Step Five: Using your pasta sheet created with the largest setting, move to the smaller setting and thread the dough. Repeat it through the pasta machine until you get to the desired thickness, which is likely the thinnest or second to last setting depending on your pasta machine. 
Step Six: Place each piece of pasta on a floured cutting board and then cut out the desired number of hearts (2 per ravioli), approximately 24 hearts, using your heart cookie cutter or ravioli stamp. 
Step Seven: For the filling: In a bowl, combine all filling ingredients and set aside until you are ready to use. Prep this while your dough is resting.
Step Eight: Together: Using a small cookie scoop, place filling on 12 hearts, place the other 12 hearts on top. Using a fork press around each ravioli to securely close it. Bring a pot of salted water to a boil, place 6 ravioli at a time in the pot and let it cook for 3-4 minutes or until they float. Remove with a spider spatula and then repeat. Serve with your favorite pasta sauce and a side salad!