Whether you are cooking a fun meal for your kids or a romantic date night with your partner, this hot pink beet gnocchi is perfect.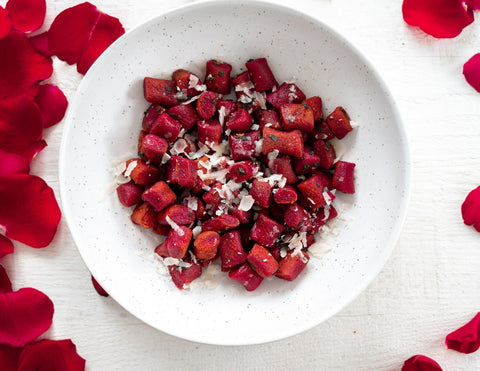 Hot Pink Beet Gnocchi
Prep Time

30 min

Cook Time

45 min

Total Time

1hr 15min

Serves

4-6p
Ingredients 
3 small Chioggia Beets

2 large Russet Potatoes

2 eggs

3-3 1/2 cups flour, plus more for kneading (white or GF flour works!)

1 cup Parmesan, plus more for serving

⅓ cup Sage, chopped

⅓ cup Butter

Salt & Pepper
Directions
To make the gnocchi dough:
Step One: Preheat the oven to 450F.
Step Two: Wash beets and potatoes, then wrap the beets in tin foil and pierce the potatoes with a fork. Bake both for ~40-45 minutes. 
Step Three: Allow both beets and potatoes to cool enough, then remove the skins from both. Set aside. 
Step Four: In a food processor or blender, combine beets, Parmesan, eggs, and 1 tsp of salt. Blend until smooth and set aside. 
Step Five: Using a cheese grater, grate the potatoes into a bowl. Then, add the blended beet mixture and stir to combine. 
Step Six: Next, add in one cup of flour at a time, mixing with a wooden spoon, until you have a ball of dough. You don't want it too sticky! 3-3.5 cups of flour should do. 
Step Seven: Turn the dough ball over onto a floured surface and knead for 2-3 minutes, then cut it into 6 portions. 
Step Eight: Roll each individual portion out into a ½" thick rope and cut into ½" gnocchi pillows. The fresh-cut gnocchi can be placed on a piece of parchment paper while you roll and cut the remaining portions.
To make the gnocchi dish: 
Step 9: Bring a large pot of water to a boil and add a few big pinches of salt.
Step 10: Boil the gnocchi in small batches, removing them from the water when they've been floating at the top for at least 30 seconds, and set aside. 
Step 11: In a pan over medium-high heat, melt ¼ the butter, then add ¼ of the freshly cut sage. 
Step 12: Once butter is frothing and bubbling, add in ¼ of the gnocchi and a pinch of salt, then stir to combine. Cook the gnocchi for 2-3 minutes on one side and turn over to cook for another 2-3 minutes. Place in a bowl, covered, and cook the remaining 3 portions of gnocchi. 
Step 13: Dish up into bowls and top with Parmesan cheese and freshly cracked pepper.
Bon appetit! 
This recipe was created by RG Ambassador Kelsey Steeves. You can see more of her work here.