Add a touch of fresh to your appetizers this holiday season! These gruyère apple thyme crostini are delicious and easy to make.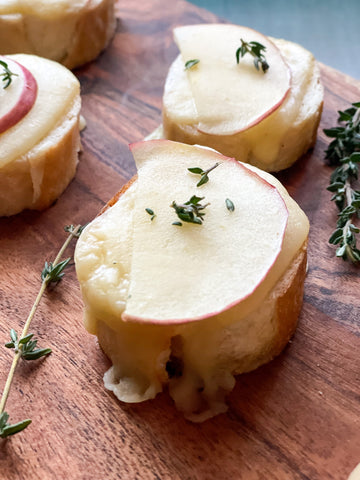 Gruyere Apple Thyme Crostini Recipe
Makes: approx 25-30 crostini 
Prep Time: 10 Mins
Cook Time: 10 Mins
Total Time: 20 Mins
Ingredients
1 baguette, cut into 1/2 inch slides

8 oz gruyère, thinly sliced

1 honey crisp apple, thinly sliced

2-3 sprigs summer thyme, roughly chopped

Honey to drizzle 
Directions
Step One: Pre-heat the oven to 375°F. 
Step Two: Place the crostini slices on a baking sheet lined with parchment paper. 
Step Three: Top each piece of bread with a slice of the gruyere. It may require two slices, but it should cover the bread. 
Step Four: Bake for 8-10 minutes or until the cheese is melted. 
Step Five: Remove from the oven. Top each slice with a slice of apple and garnish with fresh thyme leaves. 
Step Six: Drizzle a little honey over each crostini. Then, move to your serving plate and serve immediately.