Wildly Delicious Episode 4: Halloween Small Bites
It's almost Halloween and if you are anything like us, you are already half way through the Halloween candy you bought for trick or treaters. To balance out the peanut butter cups, we've cooked up two delicious and healthy Halloween recipes. For a live demonstration, check out Wildly Delicious Episode 4 on Instagram. 
Stuffed Pepper "Pumpkins"
Prep Time 5 mins
Cook Time 10 mins
Total Time 15 mins
Serves 4p
Ingredients
12 mini snacking peppers (or jalapeños if you like it extra spicy!)

200g block of feta cheese (or goat cheese)

1 tsp chili flakes

2 tbsp freshly chopped parsley

Juice of 1 lemon

3 tbsp olive oil

Salt & pepper, to taste
Directions
Step One: Preheat the oven to 400F.
Step Two: In a medium bowl, crumble the block of feta. Add the remaining ingredients (chili flakes, parsley, lemon, olive oil, and salt and pepper) and mix. Set aside.
Step Three: Cut the top of each pepper off and set it aside. Fill each pepper with the feta mixture and place on a parchment paper-lined baking sheet.
Step Four: Bake for 10-15 minutes, or until peppers are cooked through and cheese is melted (this will depend on the size of your peppers).
Step Five: To serve, garnish with a little extra parsley and put the tops back on the peppers! Now you've got stuffed pepper pumpkins!
Tip: Place a toothpick through the top of the pepper pumpkin to help keep the "pumpkin" together.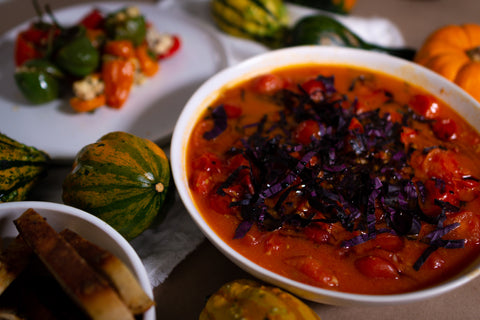 Balsamic Tomato "Guts" & Crispy Sourdough
Prep Time 5 mins
Cook Time 10 mins
Total Time 15 mins
Serves 4-6p
Ingredients
4 cups mini tomatoes

2 garlic cloves, minced

¼ cup olive oil

Juice of 1 lemon

Salt & pepper, to taste

Balsamic reduction (store-bought or homemade), for garnish

Purple basil, chiffonade cut, for garnish

1 loaf of sourdough or your favorite baguette
 Instructions
Step One: In a large pot over medium heat, heat the olive oil and lemon juice. Add in the garlic and cook for 30 seconds.
Step Two: Next, add the tomatoes and a pinch of both salt and pepper. 
Step Three: Cover the pot and allow the tomatoes to simmer for about 10 minutes.
Step Four: Slice your bread into ½" slices and heat up a grill or grill pan. Drizzle a small amount of oil into the pan or use a cooking spray. Grill each slide for 1-2 minutes on each side or until they reach your desired crispiness and set aside.
Step Five: To serve, dish up your tomato "guts" into a serving bowl and top with balsamic reduction and purple basil. Put the sourdough crostini in a side dish. Your guests can dish up their guts onto their own slice of crostini so they don't get soggy!
Recipes created by Rise Gardens Ambassador Kelsey Steeves. To see more recipes, head to her website.