If you're looking for a new tomato dish to add to your menu planning, this French Tomato Gratin is it. It's full of flavor all year long thanks to your Rise Garden. It pairs well with chicken or fish.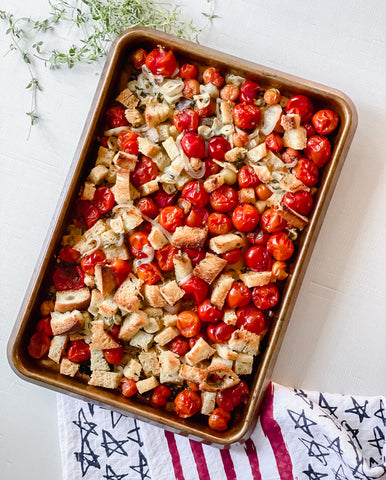 French Tomato Gratin
Prep Time

10 min

Cook Time

25min

Total Time

35min

Serves

4p
Ingredients
3 cups cherry tomatoes

3 tbsp olive oil

1/2 cup shallots, sliced

1/3 cup garlic, sliced

2 tsp fresh summer thyme 

1 1/2 cups diced sourdough bread (1/2-inch cubes)

1/2 tsp sea salt

1/4 tsp black pepper
Instructions
Step 1: Pre-heat the oven to 425 degrees F.
Step 2: Arrange cherry tomatoes on a quarter sheet pan. Drizzle with 2 tbsp of olive oil and sprinkle salt and pepper.
Step 3: Combine the shallots, garlic, summer thyme, bread and toss with the remaining olive oil. Top tomatoes with bread mixture.
Step 4: Bake for 22-25 minutes or until the tomatoes are cooked. 
Step 5: Remove from oven and enjoy!